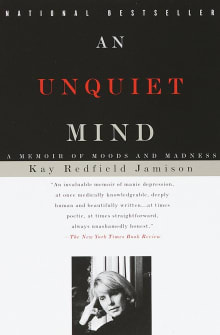 An Unquiet Mind: A Memoir of Moods and Madness
By Kay Redfield Jamison
Why this book?
Jamison writes about bipolar disorder as a professor of psychiatry and as a person who suffers from the illness. This dual vision allows us to see the disorder in multifaceted ways. Jamison is particularly adept at explaining why bipolar sufferers are so tragically prone to attempt and commit suicide. I suffer from Bipolar 2 Disorder with mixed features, meaning that I can be depressed and manic at the same time. This is a dangerous combination. A depressed person is more likely to have suicidal ideation and a manic person has enough energy to make suicidal plans and carry them out.…
From the list:
The best books to understand bipolar disorder
When you buy a book we may earn a small commission.