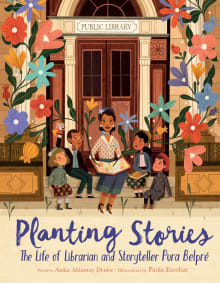 Planting Stories: The Life of Librarian and Storyteller Pura Belpré
By Anika Aldamuy Denise, Paola Escobar
Why this book?
In this story about Pura Belpre, the Puerto Rican librarian, we learn about her journey of planting story seeds throughout the country. It all starts when she moves to the United States. Working as a bilingual librarian assistant, she notices there are no Puerto Rican stories. So, she writes her own and plants also dream seeds. This is a sparse, lyrical book with vivid and sweet illustrations. 
From the list:
The most fabulosos Latinx picture books
When you buy a book we may earn a small commission.