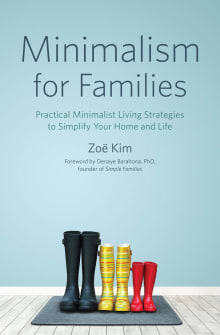 Minimalism for Families: Practical Minimalist Living Strategies to Simplify Your Home and Life
By Zoë Kim
Why this book?
Maybe you've heard of minimalism. It's a way of life that helps you shed all the stuff you don't need in your life so you can focus on the people, activities, and priorities that bring you joy. But is it possible to be a minimalist with children at home? Absolutely! Zoë Kim shows you how in this relatable and easy-to-read guide to getting the whole family on board with minimalism. You'll learn how to pare back your commitments, declutter your home, and take a more intentional approach to family life. From cleaning out the first drawer to developing lifelong minimalist…
From the list:
The best books for finding your bliss as a parent
When you buy a book we may earn a small commission.