The Year of Less: How I Stopped Shopping, Gave Away My Belongings, and Discovered Life Is Worth More Than Anything You Can Buy in a Store
By Cait Flanders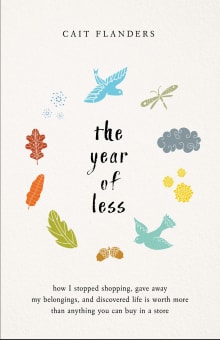 Why this book?
In this beautifully written and painfully honest memoir, the author gives up buying anything but consumables for a year. During that year, she realizes the treadmill of consumerism had kept her stuck and unhappy. Working to live, living to work. She dives deep into the cycles of spending, debt, and regret and realizes how often she had turned to spending, food, and booze to avoid feeling her feelings. 
Not only did Cait's journey remind me so much of my own in my 20's. Spending money I didn't have to make myself feel better about things I couldn't change about myself, all the while ignoring the things I could change, she also reminded me of so many of my clients. Hoping that the stuff they buy will fix their problems.
---
When you buy a book we may earn a small commission.