Theft by Finding: Diaries (1977-2002)
By David Sedaris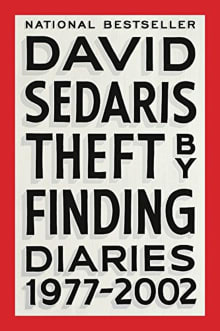 Why this book?
My friend, Richard, gave me this book. He is not selfish or stingy, but he is also not the sort to give away books. He insisted and—stunned—I gently took it from his outstretched hand. 

I'll admit I was a little like meh before I started reading, not being someone who enjoys hearing other people's dreams or reading their pithy and edited diary entries. But this is pure genius, in a very meta way since we all know how the end turns out: David becomes famous.

Here, though, are the early days cleaning houses and doing too much cocaine. His family is, of course, captured, alongside his husband and their life in France. But even better are all the random and strange people who cross his path, making this not really a diary but, rather, a flash fiction collection of essays by someone whose fascination with the odd gleefully attracts more and more odd.

---
When you buy a book we may earn a small commission.