Cocaine Blues
By Kerry Greenwood,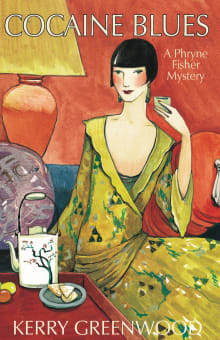 Recommended by Mary Miley
From Mary's list on Roaring Twenties mystery series.
Phryne Fisher's 21 mysteries take place in Australia, which means they lack the extra criminal/cultural dimension that Prohibition gave the US in the 1920s. However, while Australia did not prohibit alcohol consumption, there was still plenty of crime, gangsters, jazz, and flapper fashion to spice up every murder investigation. Miss Fisher, who through accident has inherited both title and fortune, stylishly sleuths her way through Melbourne's underworld. Her adventures are relatively short and a fast read, but if you tire of reading, you can watch Miss Fisher's Murder Mysteries on television. I enjoy comparing books to movies—which is better? For me it's usually the book, but still fun seeing the film version.  
---