The Gentle Art of Swedish Death Cleaning
By Margareta Magnusson,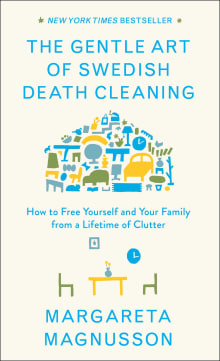 Book description
*Soon to be a major TV series*

Dostadning, or the art of death cleaning, is a Swedish phenomenon by which the elderly and their families set their affairs in order. Whether it's sorting the family heirlooms from the junk, downsizing to a smaller place, or using a failsafe system to…
Why read it?
3 authors picked The Gentle Art of Swedish Death Cleaning as one of their favorite books. Why do they recommend it?
Jennifer Howard
Dealing with a lifetime's worth of possessions feels like a heavy task—heavy in every sense. In this breezy book, Margareta Magnuson reminds readers that it doesn't have to be a drag. Figuring out what to do with all your things can be cathartic, liberating, even fun, a chance to relive some of the highlights of your life and celebrate where you've landed. It's also a kindness to your nearest and dearest. As she wisely observes, "A loved one wishes to inherit nice things from you. Not all things from you." I wish I could go back in time and give…
Tracy McCubbin
Listen to your grandmother, or someone's else adorable Swedish grandmother. Don't leave a mess behind! This practical guide to decluttering before you transition on reminds us that the messes we make are ours to clean up. Mixed in are some words of wisdom about a life well lived and some delicious recipes. Wise words from an elder. 
Lisa J. Shultz
The title of this book may sound heavy, but I found reading it felt physically and emotionally light. The author is almost whimsical as she describes her own death cleaning. She describes herself as somewhere between eighty and one hundred years old. Her stories reflect the wisdom of her age and her words exude softness in a topic that can feel hard. I recommend the book for anyone who a daunted by the prospect of getting rid of a lifetime of accumulated stuff.