Simplicity Parenting: Using the Extraordinary Power of Less to Raise Calmer, Happier, and More Secure Kids
By Kim John Payne, Lisa M. Ross,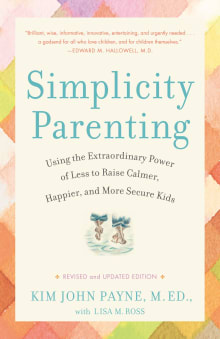 Why this book?
This was one of the first books I turned to when I wanted to simplify my working-mom-of triplets life! The hardest thing about simplifying my children's lives was that I had to go against societal norms. Society tells us that kids need more toys, more activities, etc. This book (written by a family counselor and based on thorough research) gave me the confidence to say no to giving my kids a childhood of excess and yes to a childhood with plenty of open space, downtime, and room to create. My triplets are now 12 and I still refer to the lessons I learned from reading this book when they were toddlers. I'm 100% certain that reading this book helped me give my kids a more meaningful childhood! 
---