The Daniel Plan
By Rick Warren, Daniel Amen, Mark Hyman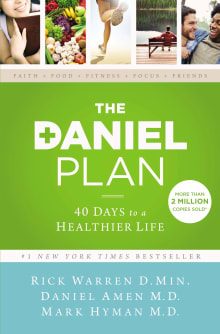 Recommended by Wendy Speake
From Wendy's list on overcoming food addiction with faith.
The Daniel Plan
is far more than a diet plan. It is an appetizing approach to achieving a healthy lifestyle by optimizing the five key essentials of faith, food, fitness, focus, and friends. Unlike the thousands of other books on the market, this book is not about a new diet, guilt-driven gym sessions, or shame-driven fasts. Your path to holistic health begins here, as Pastor Rick Warren and fitness and medical experts Dr. Daniel Amen and Dr. Mark Hyman guide you to incorporate healthy choices into your current lifestyle.
The concepts in this book will encourage you to deepen your relationship with God and develop a community of supportive friends who will encourage you to make smart food and fitness choices each and every day.
---