Love Real Food
By Kathryne Taylor,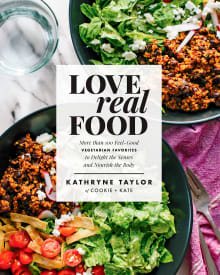 Recommended by Deana Gunn
From Deana's list on cooking vegetarian for easy and delicious meals.
Kathryne is behind the vegetarian food blog, Cookie + Kate, and this cookbook includes favorite recipes such as Southwestern Roasted Veggie Salad, Lentil Soup, Butternut Squash Chipotle Chili, and homemade granola. I love that she incorporates roasted vegetables into so many salads and other dishes. It's my favorite way to prepare vegetables. Lots of photos throughout, which is a feature I appreciate in any cookbook.

---