Mastering Diabetes
By Cyrus Khambatta, Robby Barbaro,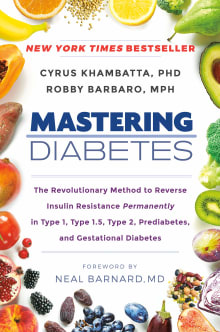 Recommended by Glen Merzer
From Glen's list on healthy cooking, eating, and lifestyle.
Mastering Diabetes explains the nature of the disease, and why the standard treatment of Type 2 Diabetes in particular is counterproductive. The authors draw from their own personal experience and the experiences of those they have counseled, but they provide evidence from a raft of scientific studies. They have had striking success, which they report with energy and enthusiasm. With confidence born of that success, they stand conventional diabetes wisdom on its head.
---