Prevent and Reverse Heart Disease: The Revolutionary, Scientifically Proven, Nutrition-Based Cure
By Caldwell B. Esselstyn,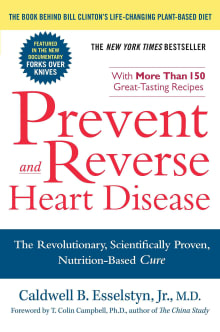 Why this book?
Dr. Caldwell B. Esselstyn, Jr., is a soft-spoken giant of modern medicine who has revolutionized the treatment of heart disease. The studies he has conducted on the role of diet in reversing heart disease, reported on within the book, are the most significant heart studies of our time. Esselstyn writes simply and clearly; when you finish reading his book, you understand everything you need to know in order to nurture and protect, through diet, a healthy heart. 
---