Alvin Ho: Allergic to Girls, School, and Other Scary Things
By Lenore Look, LeUyen Pham (illustrator),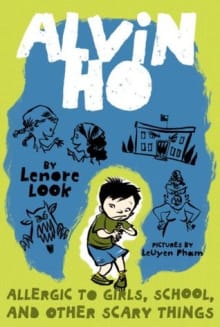 Why this book?
Second-grader Alvin Ho is afraid of everything. Not even carrying around a Personal Disaster Kit—packed with a whistle, Band-Aids, dental floss, a magnifying glass, a scary mask, and other necessary items—can ease his overwhelming anxiety. Nervous kids are sure to relate to Alvin's misadventures, but this book has more to offer than a realistic take on a child's fears. It's also very funny! Of the books I read when plotting my own chapter book series, this one made me laugh the most. 
---