Thrivers
By Michele Borba,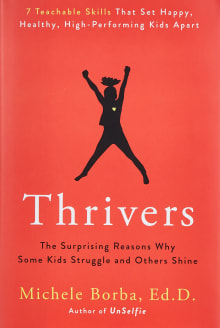 Recommended by Joanne Foster
From Joanne's list on procrastination, motivation, and kids.
Michele Borba begins her latest book by getting right to the heart and mind of what matters for optimal child development—and then she moves on to the importance of cultivating will. In total, she focuses on seven integral points—self-confidence, empathy, self-control, integrity, curiosity, perseverance, and optimism—describing why each of these attributes matters, and how to nurture them. If you want your child to be happy, resilient, and able to flourish even through adversity, then Thrivers is an excellent resource for you.
---