The Leadership Challenge
By Barry Z. Posner, James M. Kouzes,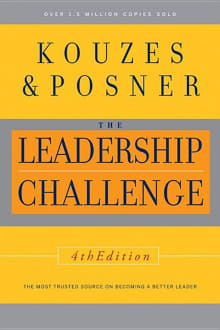 Recommended by Dianna Booher
From Dianna's list on leadership communication.
Once again, I love books based on solid research—all the better if based on several decades of solid research, as is the case with this book. The authors, both consultants and university professors, have collected data and lectured worldwide on how leaders communicate to make things happen in both large organizations and in smaller entrepreneurial ventures.
Once again, they have real-life stories "right from the front lines" of ordinary people who learned to use their communication skills and influence to do important things—in many cases, without title or position.

Kouzes is a Fellow of the Doerr Institute for New Leaders at Rice University. Posner is an endowed Professor of Leadership and Chair of the Management & Entrepreneurial Department, Leavey School of Business, Santa Clara University.

---