At the Intersection
By Robert Longwell-Grice (editor), Hope Longwell-Grice (editor),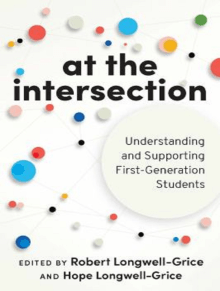 Recommended by Andrea Malkin Brenner
From Andrea's list on the best books about the experiences of underprepared college freshmen.
The editors and contributing authors present research and theory interspersed with unique personal experiences of the journey taken by first-generation students as they move through college. The volume provides the reader with up-to-date data on two- and four-year colleges, and discusses the intersection of first-generation status with varied student identities including LGBT, low-income, African-American, Latinx, Native American, and undocumented. The last section of the book offers an introduction to practices, policies, and programs across the U.S., and directs educators, policymakers, and administrators to make campuses inclusive for diverse first-generation college students. At the Intersection is a resource for understanding and effectively responding to first-generation students' divergent, shared, and intersectional identities in order to understand and alter their access, retention, learning, and well-being on the college campus.
---