Wired to Create: Unraveling the Mysteries of the Creative Mind
By Scott Barry Kaufman, Carolyn Gregoire,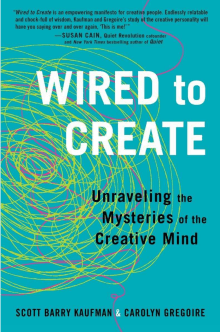 Why this book?
This book is perfect for anyone who likes to see research that supports what they believe. There's science behind the study of creativity and Wired to Create does an excellent job explaining it. Based on psychologist Scott Barry Kaufman's groundbreaking research, this book offers a glimpse inside the "messy minds" of highly creative people. Kaufman and Carolyn Gregoire study the latest findings of neuroscience and psychology, and the practices of well-known "creatives," concluding that we are all, in some way, wired for creating, and everyday life presents endless opportunities to express that.
---