War, Peace, and Human Nature
By Douglas P. Fry,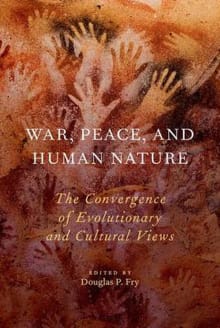 Recommended by Michael Ruse
From Michael's list on human evolution and the human story.
From anthropology and archeology, Douglas Fry and his co-contributors tell us that our ancestors were hunter-gatherers, in small bands, on a five-million-year camping trip around the globe. We had to have adaptations for harmonious communal living. Wary of strangers, we would realize that wanting to fight them was stupid. Man the "killer ape" is fiction. Then, 10,000 years ago, came agriculture, with a population explosion producing abundant goods that others would covet. The consequence was war and prejudice and other vile beliefs and behaviors. Ex-Quaker as I am, I have written a book, Why We Hate: The Roots of Human Conflict, appearing in Spring 2021, arguing that, by making the appropriate cultural moves, we can again attain our natural state of cooperation and peaceful living.
---