Revealing Illustrations: The Art of James McMullan
By James McMullan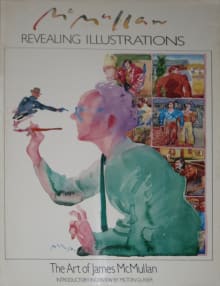 Why this book?
James McMullan is one of America's preeminent illustrators, working consistently from the 60s to today. He may be most familiar for his long series of posters for Broadway shows at Lincoln Center, but he has also done magazine illustrations, children's books, record covers, and animation. Running parallel to his illustration work has been a long career in teaching, principally at New York's School of Visual Arts (for which he also has done a series of subway posters). I was privileged to take his SVA illustration course– which had a stringent portfolio review – for two years early in my career, about the time this book appeared. No collection of greatest hits, or even a guide to achieving McMullan's juicy watercolor style, this is a thoroughly candid tour through an illustrator's work process, including a generous selection of preliminary sketches and reference photos.
Like many of the students who passed through his course, I worked in a McMullanoid watercolor style for a few years. The style I was eventually able to shed, but the method outlined in this book is one I continue to follow.
---
When you buy a book we may earn a small commission.