The Annotated Mona Lisa: A Crash Course in Art History from Prehistoric to the Present
By Carol Strickland,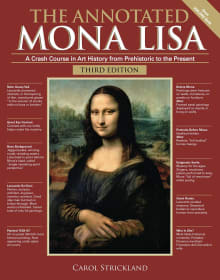 Why this book?
This book is my top recommendation for any art newbie that comes to me asking for book ideas. Where should I start if I want to learn about art history? Start right here! The Annotated Mona Lisa is easy to read, and educational yet entertaining, and it'll help you discover everything from what cave paintings actually mean, to the difference between Expressionism and Abstract Expressionism (hint: it's right there in the name), and even how contemporary artists make work out of miscellaneous objects. Great for preteens on up.

---