Dreamscapes: Creating Magical Angel, Faery & Mermaid Worlds In Watercolor
By Stephanie Pui-Mun Law,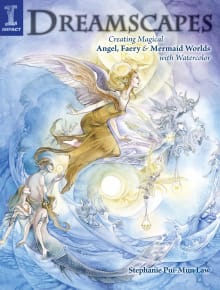 Why this book?
Pui-Mun Law has been one of my favorite artists since I discovered her website over twenty years ago. She is an accomplished artist, and her books are not only filled with beautiful artwork that will inspire any fantasy artist, but also contain very detailed tutorials and sketches.  Although the tutorials focus on finishing pieces using watercolor, this book is also filled with beautiful pencil sketches and guides on drawing different poses, body parts, and scenery to suit your fantasy character. Her watercolor style is uniquely detailed and precise, which makes the book a great reference for artists using drawing mediums as well. 
---