Cry of the Kalahari
By Mark Owens, Delia Owens,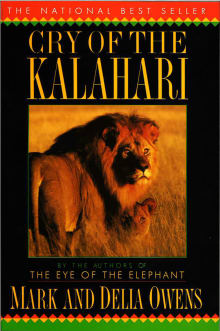 Recommended by John M. Marzluff
From John's list on wild animals written by scientists that study them.
If you are longing for an African safari, this book is for you. The Owens' are a young couple conducting their graduate research in the deserts of Botswana. In reading, you are in the field with them, waking to the roars of lions, drifting to sleep as hyenas yowl, and experiencing the daily grind, danger, and thrill of field research. I love this book because it is so real. It allows me to see the animals the Owens study—mostly lions and hyenas—through their eyes and in so doing not only appreciate their wonderful biology but also learn what it takes for a young scientist to understand them.  
---