Animal Architects
By Amy Cherrix, Chris Sasaki (illustrator),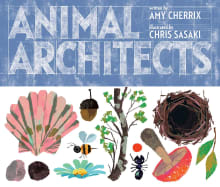 Recommended by Janet Lawler
From Janet's list on interesting animals.
Each spread in this memorable book offers beautiful illustrations and a feast of information for curious kids. Featured animals include prairie dogs, trapdoor spiders, satin bower birds, coral, and others. The text focuses on these species as builders—of cozy homes, traps for prey, special spots to attract mates, and more. Starting with the book title on the cover (the reader can see how it was "built" with cross-hatch lines guiding letter placement!), I was totally engaged. So much information, so well shared! I fell in love with the teeny, tiny harvest mouse.
---