Giving Thanks: A Native American Good Morning Message
By Chief Jake Swamp, Erwin Printup, Jr.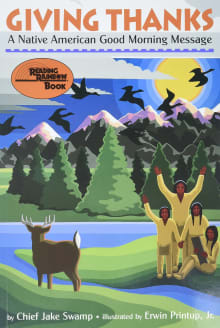 Why this book?
I love the simple elegance of the Haudenosaunee (Six Nations) Thanksgiving address because it considers nature a gift. The address, on which this book is based, is spoken before every ceremonial or governmental gathering of the Six Nations (Mohawk, Oneida, Cayuga, Onondaga, Seneca, and Tuscarora). Children greet the world with the address each morning. They thank the people, the waters, the grasses, the plants, the animals, the winds, the rain, the Sun, the Moon, and the stars of the night sky. What a perfect way to stay connected to Nature!
Perfect for kids ages 5-11.
---
When you buy a book we may earn a small commission.