Chicago's Awful Theatre Horror- by the Survivors and rescuers
By Bishop Fallows,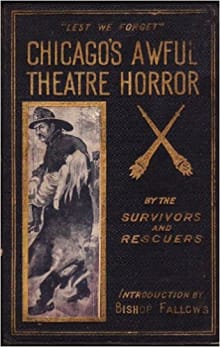 Recommended by Judith A. Yates
From Judith's list on true crime books to keep on your shelf.
"POP!" An arc light sets to kill over 600 people in the Iroquois Theatre. In 1903 the lack of safety, faulty and missing equipment, greed, and ego caused the deadliest theater fire in U.S. history. It began with briberies and ended with dismissed charges. There are books on the Iroquois Theatre fire, but this is a journal of eyewitness accounts written immediately after. Actors recount experiences behind the curtain, theater employees discuss their roles, and survivors talk about losing entire families. This book also discusses the aftermath, including the demand for criminal action. Negligence and outright illegal activity created the fire and the public paid in ashes - the final court decisions leave you outraged at a judicial system built for the wealthy.
The Iroquois Theatre fire set a precedent for fire prevention measures in place today. Had those in charge used prudence, higher expenditures, and legal requirements, over 600…
---