The Female Offender
By Cesare Lombroso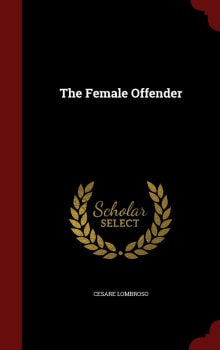 Why this book?
Why are female criminals "ugly"? Italian criminologist Professor Caesar Lombroso discusses crime causation, justice systems, penology, and the female offender. Lombroso rallied for humane treatment of inmates, advocating programs to reform the penal system, and believed both generated a better society. He argued that criminal behavior is inherited and categorizing offenders as: crimes of passion, aka "lunatics", occasional offenders, and born criminals. He also tried to identify them by physical attributes: the skull, features, and tattooing. 
Lombroso's atavistic theories initially seem outdated - and even laughable - but are still practiced today. "(S)he looks like a criminal" is something you commonly hear. Or, people instantly judge someone's tattoos. Lombroso's approach is still utilized in true crime media. The case becomes more interesting when perpetrators are attractive. Even the monikers for female criminals are modified: femme fatale, black widow, she-devil. Readers will enjoy the contrast/comparison to 1900s criminology. The Female Offender is an excellent resource for research. And it's a fun read!
---
When you buy a book we may earn a small commission.