A Place to Start a Family
By David L. Harrison, Giles Laroche (illustrator),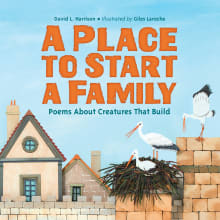 Book description
A poetry collection introducing animal architects that build remarkable structures in order to attract a mate and have babies.

Many animals build something--a nest, tunnel, or web--in order to pair up, lay eggs, give birth, and otherwise perpetuate their species. Organized based on where creatures live--underground, in the water, on…
Why read it?
1 author picked A Place to Start a Family as one of their favorite books. Why do they recommend it?
Matt Forrest Esenwine
Given poet David L. Harrison's background and interests (he holds science degrees from both Drury and Emory Universities), it should not be surprising to see his books show up on two of my lists. While he has published numerous poetry collections about animals, A Place to Start a Family stands out because of its tight focus – poems about animals that build nests, hives, and other types of homes – and the writer's incredible talent for wordplay.
From ingenious internal rhyme to intriguing back matter to Giles Laroche's masterful cut-paper illustrations, this work of creative nonfiction is equally at home…