The Boy Who Grew a Forest: The True Story of Jadav Payeng
By Sophia Gholz, Kayla Harren (illustrator),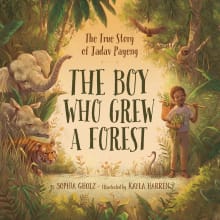 Why this book?
I am moved by how, in spite of his sadness and grief at the loss of his surrounding natural environment and the animals that lived there, Jadav decides to do something about it. He shows how, by taking one small step at a time, each of us has the ability to make a tremendous impact on improving our natural world. It gives me great hope that young readers will be inspired to care for our common home and restore our troubled planet, one plant at a time.
---