Kachka
By Bonnie Frumkin Morales, Deena Prichep,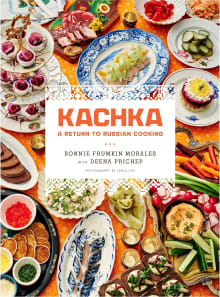 Recommended by Felicia Campbell
From Felicia's list on best international cookbooks for both culture and food.
Want a visual primer to all things Russian from the items found at the cured meat and fish counter to helpful phrases when grocery shopping? How about recipes for infused vodkas ranging from tarragon to cranberry and an entire chapter devoted to dishes wrapped in dough? Kachka is a cookbook that will not only teach you to cook Russian food, it will teach you how to eat, drink, and entertain like a Russian in a way that's quirky, highly visual, and as fun as it is authoritative.

---