Titanic: Minute By Minute
By Jonathan Mayo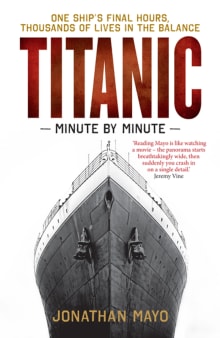 Why this book?
I can't tell you how many times I consulted Jonathan Mayo's Titanic: Minute By Minute book, checking that the Titanic's timeline fit in with what my characters were doing at any given time. It's non-fiction, and it's nail-bitingly intense. The book is written in present tense, giving you a sense of urgency as Mayo tells you where everyone is, and what is happening at varying parts of the ship at that exact moment. It helps ground you in reality: The truth was, many of Titanic's crew and passengers didn't know the ship was sinking. And many of those who did genuinely believed another ship would arrive long before anything serious could actually happen. Mayo uses both accounts from passengers who survived the sinking, as well as the crew member's testimony from the British and American Titanic inquiries. 
If you've ever wanted to know exactly what happened the night Titanic sank, don't look any further. Just read Titanic: Minute by Minute.

---
When you buy a book we may earn a small commission.