The Worst Class in the World Gets Worse
By Joanna Nadin, Rikin Parekh (illustrator),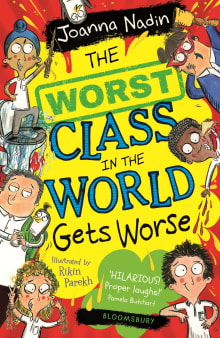 Why this book?
What all of Joanna Nadin's books have in common is her ability to capture the voice of her characters so perfectly they feel truly alive. The children of class 4B have that loveable lunacy I remember from teaching kids this age. That authenticity is what has kids falling off their chairs with laughter, and what makes this such a great book to read aloud. You'll find yourself repeating catchphrases later. Rikin Parekh's illustrations add another layer of brilliance and perfectly capture the characters and their comedy antics. Literally hilarious!
"Dad says well at least I haven't been arrested. Grandpa says being arrested would be getting off lightly and in his day he had to walk five miles to school barefoot and eat gravel for lunch. 
Mum who works at the council says, 'I have spent all day listening to Mr. Butterworth bang on about bollards and the last thing I need is a heated debate about eating gravel.'"
---