The Upswing
By Robert D. Putnam,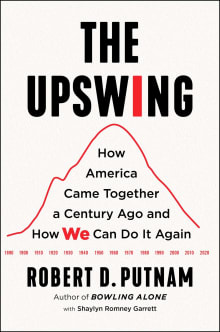 Recommended by Anthony Biglan
From Anthony's list on to find out what we can do to fix the USA.
Robert Putnam and Shaylyn Romney Garrett provide an analysis of the past 125 years of American history that makes a significant contribution to the growing movement to reform American Society. They carefully analyze trends in American life in a way that delineates the tangle of problems we are currently experiencing while at the same time offering hope that we can overcome them. The essence of their analysis is that across a wide variety of societal indicators, the past century and a quarter has involved an upswing in prosocial or communitarian norms and practices, beginning in the progressive era of the early twentieth century. That was followed by a reversal toward less communitarian and more individualistic and self-centered norms and practices.
---