Habits of the Heart: Individualism and Commitment in American Life
By Robert N. Bellah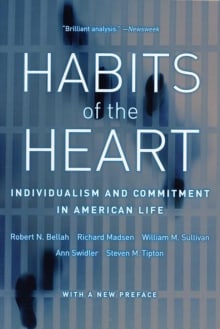 Why this book?
The idea of citizenship is vague and can be complicated. Sometimes it refers to a person recognized as a natural-born or naturalized denizen of a nation, sometimes the right to cast a ballot, sometimes law-abiding behavior, sometimes civic engagement, and, too seldom, engaging in public work. Bellah and his associates conducted a series of interviews with ordinary citizens across the US to ascertain their understanding and values with respect to private and public (citizenly) life.
Overwhelmingly, those interviewed (mostly white, middle-class Americans) attached great value to their private lives, while acknowledging the importance of civic participation. They commonly expressed a belief that they should be publicly involved. However, when they discussed public life, they had a limited range of ideas about what that participation might look like, especially compared to the rich descriptions they offered for private life and why they valued it so. 
Among others, Habits raises the question of how well citizens understand citizenship as a public act when they lack a rich vocabulary for civic engagement. The explosion of social media and the deepening divisions within US political life since this seminal study was published mark Habits of the Heart as a harbinger of problems lurking at the edges when public engagements lack a robust language to accommodate complexity and difference. 
---
When you buy a book we may earn a small commission.