Insignificant Events in the Life of a Cactus
By Dusti Bowling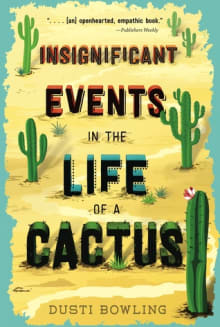 Why this book?
This fun, heartfelt story is about a middle school girl, Aven, that was born without arms. When her family moves to Arizona, she has to start over and make new friends. Moving is challenging for any kid, but especially difficult if you are in middle school and look very different from your peers.
Aven is funny, authentic, and self-aware. Watching her navigate the challenges in her life is inspiring and encourages readers to question their assumptions and judgments about themselves and others. This story includes a mystery, some adventure, as well as a beautiful reflection on acceptance and friendship.
---
When you buy a book we may earn a small commission.