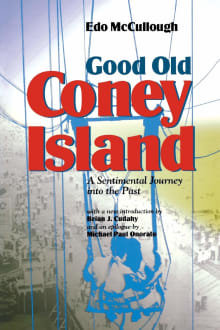 Good Old Coney Island: A Sentimental Journey Into the Past
By Edo McCullough
Why this book?
First published in 1957 (and re-issued with a welcome epilogue by historian Michael P. Onorato), the book vividly portrays the storied seaside's heyday. McCullough was Coney Island royalty: His grandfather was one of its earliest settlers, his uncle was among its greatest showmen, and his dad owned a dozen amusement-park shooting galleries. The family's love of the place seeps through these pages (a sub-sub title reads "the most rambunctious, scandalous, rapscallion, splendiferous, pugnacious, spectacular, illustrious, prodigious, frolicsome island on earth"—which about sums it up).  Particularly moving is the heartbreaking fate of the show animals on the night of a tragic…
From the list:
The best books about historic Coney Island
When you buy a book we may earn a small commission.