Divergent Social Worlds
By Ruth D. Peterson, Lauren J. Krivo,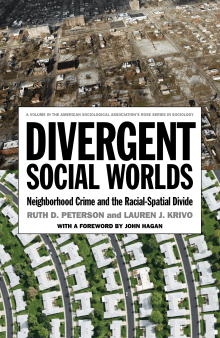 Recommended by Douglas S. Massey
From Douglas' list on how neighborhoods perpetuate inequality.
Peterson and Krivo meticulously demonstrate how residential segregation creates and maintains inequality in neighborhood crime rates using data from their groundbreaking National Neighborhood Crime Study. Using a nationally representative sample, the authors provide a more comprehensive picture of the social conditions underlying neighborhood crime and violence than has ever before been drawn.

---