A Philosophical Investigation
By Philip Kerr,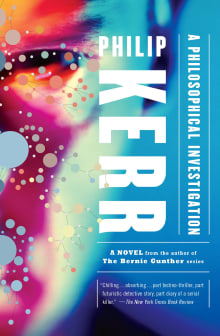 Why this book?
THEME: Technically, this is not really a work of science fiction per se, even though it takes place in London 2013, twenty-one years before the book's publication. So it explores aspects of the future through a journey into the head of a serial killer and to the heart of murder itself. In the book, London at that time was a city where serial murder has reached epidemic proportions. To combat this raft of murders, the government has created a test to screen people for a predisposition to commit violent crimes. Tested at random, a man is shocked to hear that he fits the model. Yet when he breaks into the computer to erase his name, he discovers a list of his "brothers" a logical idea springs into his mind: What if to protect society he becomes a killer of serial murderers?

The inspector charged with tracking down this sociopath, code-named "Wittgenstein", engages with him in a diabolical cat-and-mouse game, in which the killer engages her in a chilling philosophical dialogue about the nature of life itself.

I'm a big fan of both fast-paced intelligent thrillers and philosophy, so when an author brings the two themes together how can I not like the book? And that's especially true when it's written by a first-rate stylist like Philip Kerr. The story is fast-paced, the antagonist and protagonist are engagingly drawn and the philosophy is perfect. What better way can there be to learn a lot of philosophy and have a great time doing it?

---