Permutation City
By Greg Egan,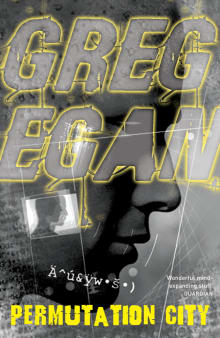 Book description
"Egan is determined to make sense of everything - to understand the whole world as an intelligible, rational, material (and finally manipulable) realm - even if it means abandoning comfortable and comforting illusions. This is fundamental to the whole project of SF and it's why Egan's Best - and his…
Why read it?
3 authors picked Permutation City as one of their favorite books. Why do they recommend it?
Calum Chace
Egan is an Australian science fiction writer.
To my mind, he's written better about AI than any other science fiction writer, because he takes it seriously. He recognizes it represents enormous change.
Permutation City is about a time in history when uploading becomes possible and very rich people can upload themselves into machines that operate quickly and in real time.
Poorer people have to upload themselves into machines that process very slowly and so they live very slow versions of life.
Casey Dorman
A different version of the AI problem is the one discussed by a multitude of scientific and philosophical authors: what if the world in which we live, including our own consciousness, is a computer simulation? Permutation City, by Greg Egan, is one version of this dilemma. In this novel, those wealthy enough to afford it may upload their consciousness into a virtual world, one which they have a part in creating, and one which aims to be self-sustaining after they die.
The plot revolves around a researcher who has invented a virtual self-generating chemical germ-seed that can evolve and…
John L. Casti
What happens when your digital self overpowers your physical self? A life in Permutation City is unlike any life to which you're accustomed. You have Eternal Life, the power to live forever. Immortality is a real thing, just not the thing you'd expect. Life is just computer code. You have been digitized, scanned, and downloaded into a virtual reality program. A copy of a copy. For Paul Durham, he keeps making copies of himself. But his copies keep changing their minds and shutting themselves down. There is also Maria Deluca, who is nothing but an Autoverse addict. She spends every…