Kings, Queens & Courtiers
By Kenneth Rose,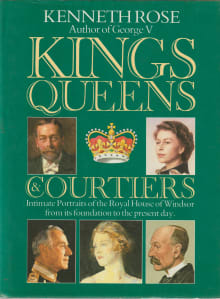 Recommended by Robert Lacey
From Robert's list on about the Queen.
This gazetteer for monarch-aholics is the work of the witty and waspish Kenneth Rose (1924-2014), the royal biographer whose insights have set the standard for the rest of us. Embedded in the heart of the Establishment, Rose had the ability to skewer its every weakness. Duchesses, Diana, Dimbleby (Richard) and Charlotte, George V's pet parrot – all are here, bearing out the words of Queen Elizabeth II's non-royal grandmother, Cecilia Bowes-Lyon: "As far as I can see, some people have to be fed royalty like sea-lions fish."
---