Metropolitan Corridor
By John R. Stilgoe,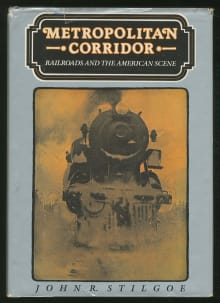 Recommended by Patrick N. Allitt
From Patrick's list on the best books to understand American environmental history.
Railroads usually show up in American history books when they're just getting started (1830), linking up the two coasts (1869), or going into catastrophic decline in competition with cars, trucks, and aircraft (the 1960s). Stilgoe, a professor of environmental design at Harvard, is much more interested in their long dominance from the 1860s to the 1950s and how they facilitated the development of American cities, the siting of power stations, the development of suburbs, and the rise of industrial parks. Nothing's too humble and grimy to escape his notice. In one bravura passage, he even explains the truth behind the "Valley of Ashes" in Fitzgerald's The Great Gatsby.

---