Go, Dog. Go!
By P. D. Eastman,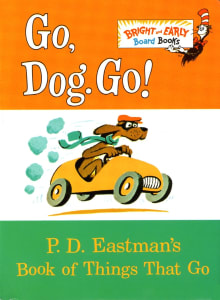 Recommended by Trudy Krisher
From Trudy's list on children's books featuring dogs.
If your early readers love dogs, this classic picture book is alive with dogs who can help them read easy yet important words like colors, numbers, and directions. Best of all, its lively action-packed illustrations provide context cues for even the most struggling reader. "Stop" and "go" are illustrated with car-driving dogs braking at traffic lights or racing through intersections. "Over" depicts a dog helicoptering above a tree; "under" depicts a dog resting in a hammock under it. Action-packed doggy adventures – dogs on scooters and skates, on unicycles and carriages - invite young readers to join on this doggy adventure, preparing them for the adventure of reading itself.

---