Breaking Barriers: Travel and the State in Early Modern Japan
By Constantine Nomikos Vaporis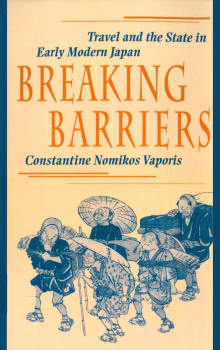 Why this book?
Vaporis' Breaking Barriers gave me the background knowledge to understand how developed the system of travel was in Edo Japan. Both in relation to the infrastructure and the regulations imposed by the Bakufu under the Tokugawa regime. I was particularly impressed to learn about the sankin kotai, which is the travel expeditions of the regional lords (the daimyo) for their mandatory alternate residency in Tokyo, and the different protocols and checks across the roads.
Despite the harsh laws of the Tokugawa's system of roads, barriers, relays, and permits, I was surprised to discover the social reality of the roads and how travelers managed to overcome the regulations and escape from social restrictions. I also enjoyed the multiplicity of sources that Vaporis is using to describe the culture of the road beyond the official records: from diaries and literary sources to woodblock prints.  
---
When you buy a book we may earn a small commission.