The Roads to Sata: A 2000-mile walk through Japan
By Alan Booth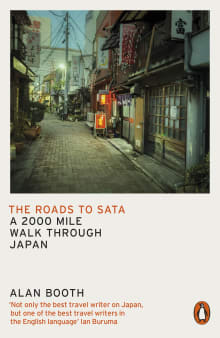 Why this book?
Though written in the mid-80s, Alan Booth's account of walking the entire length of Japan remains one of my favourite books on Japan. Fluent in Japanese, Booth passes through the country, closely observing its smallest details and quirks, largely of rural life, reporting what he sees, smells, hears and feels on his journey.
Funny in some parts, graceful and poetic in others, anyone who has spent extended time in Japan will knowingly nod and chuckle, recognising many of the traits, situations and irritations that he alludes to. How much of the rural charm that Booth captured so well, has now faded into history, is hard to say. But I like to think that the innkeepers, bear hunters and fisherman that Booth speaks of are still going about their ways, keeping this bucolic side to Japan alive. Overall, Roads to Sata is a well-painted, funny and realistic portrait of Japan, and is amongst the most enjoyable books on Japan I have ever read.
---
When you buy a book we may earn a small commission.