A History of Tokyo 1867-1989: From EDO to Showa: The Emergence of the World's Greatest City
By Edward G. Seidensticker,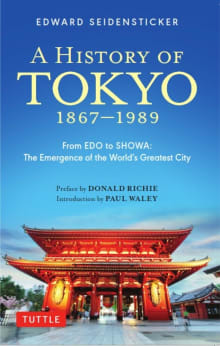 Why this book?
This new edition combines under one cover Edward Seidensticker's colossal Low City: Tokyo from Edo to the Earthquake and Tokyo Rising.  Few cities have been so fortunate as to have such erudite-yet-accessible books written about them; by an outsider, no less. A towering figure on late twentieth-century Japanese studies and letters, Seidensticker arrived in Tokyo weeks after General Douglas MacArthur had assumed control of the country. His work on major twentieth-century Japanese writers earned him graduate degrees and faculty appointments at major American universities; his freelance writing on Japanese life extended the reach of his work well beyond the halls of academia. Most strikingly, his historical works about Tokyo demonstrate a deep knowledge of, and passionate devotion to,  the city on every page.

---