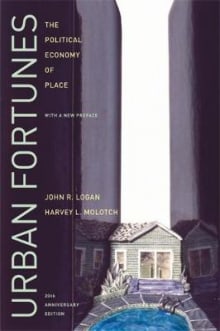 Urban Fortunes: The Political Economy of Place
By John R. Logan, Harvey Molotch,
Why this book?
If you want to understand gentrification, read this book. The authors unpack the municipal power dynamics that fuel that process, but that is only part of what Logan and Molotch uncover in their brilliant sociological analysis of urban space. Their distinction between the use-value and the exchange value of real estate, their dissection of how city elites transform cities into "growth machines," and their overall, devastating attack on the claim that "growth" is always good, make this book as relevant today as when it was first published in 1987.  
From the list: