Making the Second Ghetto: Race and Housing in Chicago, 1940-1960
By Arnold R. Hirsch,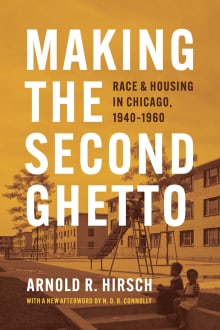 Why this book?
Many believe the myth that post-war public housing was constructed to help house the poor.  Hirsch focuses on the business and educational leaders who created urban renewal and public housing legislation to reveal their actual goal – to grab valuable land and displace African American residents who they viewed as threats to their investments. Like white working-class Chicagoans, these elites sought to exclude Black Chicagoans, but the white working class used riots and overt violence against Black residents who dared to enter their communities, while elites simply changed the laws to enable their more genteel form of ethnic cleansing. Published in 1983, Hirsch's book pioneered whiteness studies. It remains a brilliant, scathing work on the mechanics of white supremacy and the racial politics of urban space.  
---