Dangerous Jane
By Suzanne Slade, Alice Ratterree (illustrator),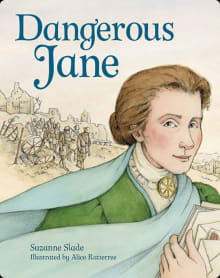 Recommended by Jennifer Merz
From Jennifer's list on strong inspiring women.
This is a marvelous picture book on Jane Addams, founder of Hull House in 1889. Hull House was a Chicago settlement house for newly-arrived European immigrants. When we first meet Jane, she is a sad, sickly child who relates to those living without hope. She promises to help them when she grows up – and she does! Through her tenacity and grit, she studies, travels, and figures out how to help struggling families. 
Called "Saint Jane" when Hull House opened, she also formed the Women's Peace Party during WWI. A Nobel Peace Prize winner, Jane Addams is an inspiration. The text of Dangerous Jane is spare, clear, and poetic; illustrations are beautifully drawn and carefully designed. This book is a treasure!

---