Farewell to the Party of Lincoln: Black Politics in the Age of F.D.R
By Nancy Joan Weiss,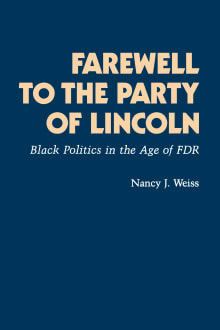 Why this book?
Nancy Weiss traces how Black Americans, who traditionally voted Republican, abandoned the Party of Lincoln for the Democrats during the Roosevelt era. By 1932, Black dissatisfaction with the GOP had surfaced and centered on Herbert Hoover's mishandling of the Great Depression. Although Hoover still won Black votes, Black Americans crossed over to support FDR in key electoral districts. Roosevelt's New Deal economic programs neglected to remedy Black poverty and inequality but the President's progressive reputation made him popular with many in the Black community. Creative campaign strategies targeting the Black community increased Black support for FDR and solidified the Democratic party's hold on Black votes in 1936 and 1940. This important transformation shaped the future of the America political landscape and increased Black voices in the American political process.
---