Freedom from Fear: The American People in Depression and War, 1929-1945
By David M. Kennedy,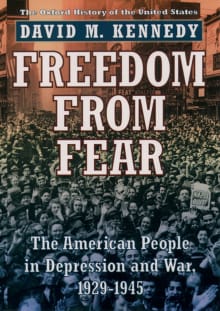 Why this book?
This Pulitzer Prize-winning study is the best single-volume history of America in the Age of FDR.  Meticulously researched, ambitiously conceived, and vividly written, it crafts superb portraits of the presidencies of Herbert Hoover and Franklin D. Roosevelt. Kennedy offers a balanced assessment of FDR's New Deal, concluding that his reforms enhanced the socio-economic security of millions of Americans despite their overall failure in the 1930s to achieve economic recovery, which would only come about through the crucible of war in the early 1940s. However, the real heroes of the book are the American people for their resilience and resolve in the face of the Great Depression and World War 2, the two greatest challenges the United States faced in the twentieth century.  
---