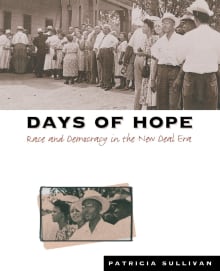 Days of Hope: Race and Democracy in the New Deal Era
By Patricia Sullivan
Why this book?
In a pathbreaking examination of the New Deal and race, Patricia Sullivan does a deep dive into how the Roosevelt administration's policies played out and, in most cases, failed Black people. While that story is a disappointing one, she also shows how the era created opportunities for a biracial coalition of Black and white progressives to come together to push for a vision of a revitalized American Democracy based in racial equality. Sullivan offers compelling accounts of the dynamic leadership provided by the NAACP, Black New Dealers, and Black activists in challenging American racism as they worked with white allies.…
From the list:
The best books on Black Americans and the Roosevelt era
When you buy a book we may earn a small commission.